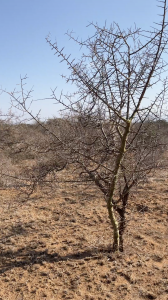 Four consecutive seasons of below-average rainfall in East Africa have resulted in the worst drought the region has seen in 40 years. Lion Guardians operates in the arid and semi-arid Kenya, which are hardest hit by the drought. The effects of the drought are severe. Lion Guardians is doing what it can to support the most vulnerable in communities during this difficult time.
Unprecedented conditions
Rainfall predictions for the East African region are bleak. According to the IGAD Climate Prediction and Applications Centre (ICPAC), an East African body that predicts climate in the area, the fifth season of below-average rainfall is expected in October – December 2022 in Ethiopia, Kenya, and Somalia. Poor rains are also likely to affect Uganda, Tanzania, Djibouti, eastern Ethiopia, and central and northeastern South Sudan. In Kenya alone, an estimated 4.1 million people are facing acute food insecurity due to the drought. Across East Africa, the estimate is 18.6 – 21.1 million people (Reliefweb quoting ICPAC's Food Security and Nutrition Working Group). Livestock provides milk and food for Maasai communities. An estimated 2.1 million livestock have died in Kenya and a further 1.5 million in Ethiopia. In the words of ICPAC Director Dr. Guleid Artan, "… we are on the brink of an unprecedented humanitarian catastrophe." 
The drought has led to high levels of migration as Maasai herders crisscross neighboring counties seeking ever-shrinking pasture and water sources for livestock.  In Kajiado County, in the Lion Guardians' operating areas, pastoralist communities from Imbirikani, Eselenkei, and Olgulului group ranches, have walked their livestock west towards Magadi in search of pasture; a journey of approximately 200-300 kilometers. Others have moved southeast towards the Chyulu Hills and Makueni (100-200 kilometers), and others are still further south towards Kenya's coast in Mombasa, Taita Taveta, and across the border into Tanzania. These journeys are anywhere from 100 to more than 400 km long. 
The families that have not left are keeping their herds alive with animal feed purchased in local markets at the equivalent of USD 12 – 17 per bag of animal feed.  For larger herds who can consume several bags per day, this cost can quickly add up. Other livestock owners feed their goats the dried fruits of the umbrella acacia (Vachellia tortilis) tree. Collecting enough dried fruits to sustain goats takes many hours of hard labor, going from tree to tree, shaking down, and collecting the fruits from the ground. No option is a good option when attempting to keep livestock and livelihoods alive during a long brutal drought.
Additionally, even though the war in Ukraine is half a world away, its effects compound the harshness of the drought in Kenya. The war is causing a severe shortage of wheat and fertilizer, raising food prices beyond the purchasing power of most community households.  Furthermore, the reduced milk production means that the basic nutritional needs of the elderly and children are not being met. It is a very worrying situation with seemingly no near end in sight.  
Assistance to communities

For now, all we can do is support the communities and hope for the rains to come sooner rather than later. We are incredibly grateful to the Chantecaille Conservation Foundation and Big Life Foundation who are donating funds to purchase food and porridge to feed the most vulnerable. Lion Guardians have worked with the community leadership to identify the elders from each area that are in need of extra support during these tough times. In the course of visiting the elders at their homes to interview them on Maasai culture and the many ways that it has shifted and changed during their lifetimes, the Lion Guardians team saw how the elders were suffering. Many had already passed away due to the hardships of the drought. Lion Guardians' Programme Manager Luke Mamaai and the Guardians have begun to hand out supplies to these elders and their families (pictured left). 
We extend warm thanks to our partners on the ground, the Maasailand Trust for channeling the donation from the Chantecaille Conservation Foundation, enabling Lion Guardians to provide much-needed food supplies to the elders. We also want to send a big heartfelt thank you to the local stores for providing in-kind food stocks for the Guardians and their families. The Guardians work tirelessly each and every day during incredibly trying times, to support their families, their communities and to protect their lions. 
We appreciate you all greatly!
Article written by Janet Onyango and Stephanie Dolrenry